Facts & Figures
We produce four appellations (Tavel, Lirac, Côtes-du-Rhône and Châteauneuf du Pape) and IGP Pays d'Oc.
We sell mainly to international markets on nearly every continent. International sales represent 70% of our business. We are distributed in North America, South America, Antilles, Europe, Central Asia, Asia and Oceania.
Our wines are produced from our 50-hectare, 100% biodynamic property.
Organically certified wine-making since 1997 (ECOCERT) and biodynamic since 2009 (Demeter).
Our 50 hectares allow us to produce about 320,000 bottles annually.

Distribution by Terroir:
Rolled Pebbles: Lirac, Châteauneuf du Pape
Flagstone (Lauzes): Tavel
Sand and gravel: Côtes-du-Rhône, Lirac, Tavel, IGP Pays d'Oc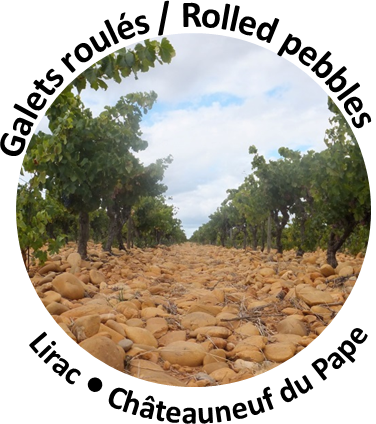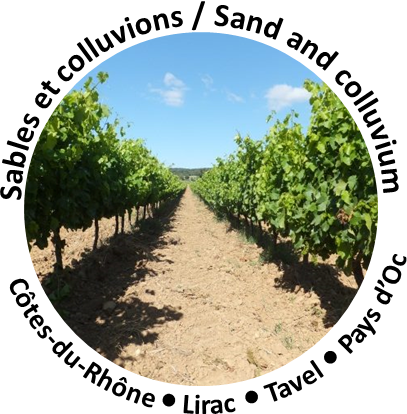 Distribution by Appellation:
White Lirac - 2.5 hectares - 90 hectolitres – 12,000 bottles
Rosé Tavel - 4 hectares - 183 hectolitres – 24,400 bottles
Red Lirac - 15 hectares - 585 hectolitres – 78,000 bottles
Red Côtes-du-Rhône - 23.5 hectares – 1,200 hectolitres – 160,000 bottles
Syrah Pays d'Oc - 5 hectares - 400 hectolitres – 53,300 bottles
TOTAL - 50 hectares – 2,458 hectolitres – 327,800 bottles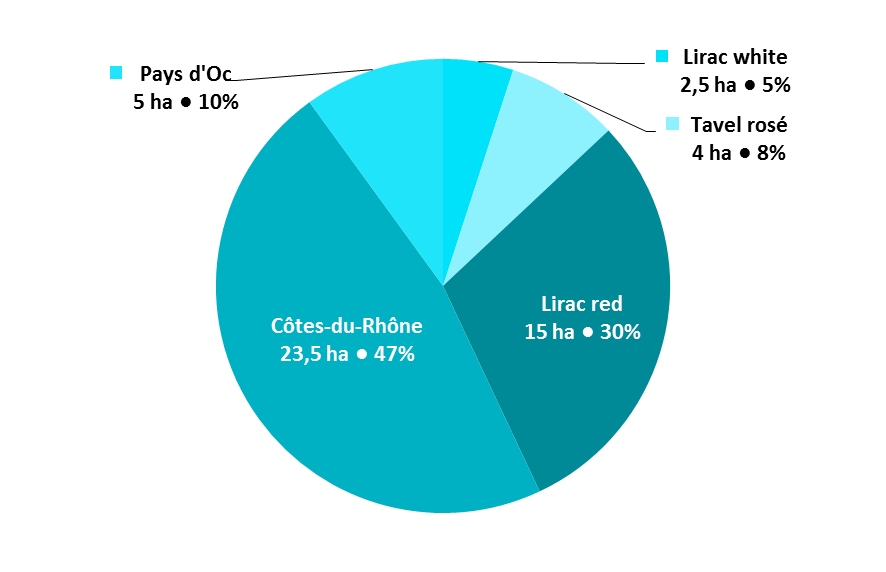 Distribution by Varietal:
Red: 40% Grenache – 30% Syrah - Cinsault, Mourvèdre, 22% Carignan – 3% Clairette rose
White: Grenache blanc, Roussanne, Marsanne, Bourboulenc, 5% Viognier